Disclosure: This post may contain affiliate links to help support our free community. This 100% free to you, and keeps the lights on for us!
Funko has announced there new grand opening of the official HQ store. You can be sure to find some rare gems on this day if your in town. Are you going? We will be to celebrate the new coming of all things Funko! Details Below.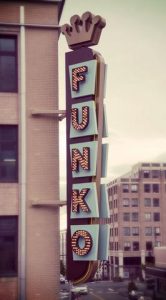 Come join us on August 18th to celebrate the grand opening of the official Funko HQ store!
This will be the first opportunity for fans to see the new location and promises to be a completely new and exciting experience for any Funatic! You'll walk through the world of Funko like never before – among the figures you already know and love, you'll also find brand new products, unique activities, and special surprises!
The festivities will include food trucks, giveaways, fun photo opportunities, and a signing with the one and only Brian Mariotti!
And of course… there will be exclusives available ONLY at the store and ONLY during the grand opening celebration!
We have a block of hotel rooms held at the Marriott Courtyard in Everett – reserve your room today!
More details will be coming soon – as always, keep an eye on @OriginalFunko for updates!
Funko's new address is:
2802 Wetmore Ave, Everett, WA 98201