Disclosure: This post may contain affiliate links to help support our free community. This 100% free to you, and keeps the lights on for us!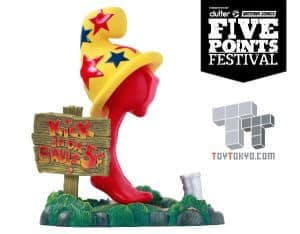 As everyone I sure is aware of already, the first ever Five Points Festival is taking place this Saturday and Sunday in New York City, and we are inviting all of our loyal fans to stop by our booth and check out some of the show exclusives that we have available.
And no reminder is necessary, but Toy Tokyo is back from an Asia tour piggybacking off of friend-of-store Master Popagandist Ron English on his East Meets West Tour…and shall we state the obvious? There's a lot of cool pieces that are going to fill our booth up!
The first annual Five Points Festival in NYC this weekend Saturday May 20, and Sunday May 21st!
The image above is of legendary artist Mark Bode's Kick in Da Ballz piece that will make it's debut this weekend at Toy Tokyo's booth! This is an amazing articulated piece…press on the wizard's hat and he kicks a can (or your nether region, it's your choice).
Another piece that will be available is from Secret Base Japan and the latest McSupersized colorway blind bag Joker Edition, from Thailand Toy Expo…of course from the Master Ron English.
For those Funko fans out there Funko Pop! Asia Gold Mystery Bags will be available. Each bag is packed with 3 Pop! Asia Vinyls, with a chance of getting one of three Gold Edition Pop! Asia: Gold Astro Boy, Gold Ryu, or Gold Sukjai.
As an added treat for fans, Toy Tokyo owner and toy impresario Lev will be displaying a selection of rarities from his vast collection of toys and collectibles during the Five Points Festival.

See everyone this weekend at Five Points Festival!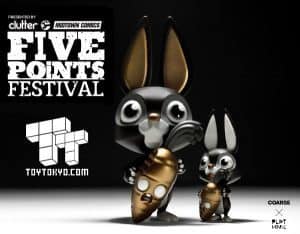 We are sure everyone is now aware of the fact that Toy Tokyo will be displaying at the first ever Five Points Festival in NYC this May 20th and 21st. Among the really cool exclusives we will have is a new set of the Nibble and Root combo from Coarse Toys, this is the TTE Blackout edition. This will ONLY be available at Five Points, but if there is any leftover (a big "if") a few of these pieces may hop online!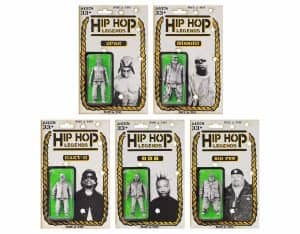 And here's a surely amazing new addition to the Friend-of-the-store family of Toy Tokyo…RYCA, from London. This gent from across the pond does some amazing limited edition custom action figures that for lack of a better word are SICK!
RYCA will be at the TT booth this weekend and Toy Tokyo will have an exclusive colorways of his Hip Hop Legends, including 2Pac, Biggie, Eazy, ODB and Big Pun! These are all hand signed and numbered in editions of 10 and 20!!!