Disclosure: This post may contain affiliate links to help support our free community. This 100% free to you, and keeps the lights on for us!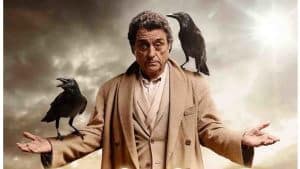 With the big success of American Gods on Starz it was only a matter of time, the network and creators have confirmed Figure and Toy lines coming soon for the show.
Of course Funko Pop! has got the rights to a line also!
American Gods, the new Starz series based on the Neil Gaiman novel, is a hit. And now the Gods are blessing fans of the show with tons of tie-in merch like an American Gods Funko Pop! Vinyl line, action figures from NECA and more. You'll have to have patience, however, while some of the products will roll out soon, a lot of the cool stuff may not be available until American Gods Season 2 premieres.
Here's a breakdown of the American Gods toys, books, and other merch coming your way:
Chronicle Books is creating a behind-the-scenes hardcover book about the making of American Gods Season 1.
American Gods trading cards in both print and digital by Rittenhouse Archives.
American Gods Funko Pop! Vinyl figures.
Non-articulated vinyl figures from Titan.
Articulated action figures, foam replicas, and scalers from NECA.
Unfortunately, the American Gods products listed are all in the design and development stage right now, so there aren't any proper images to share. But we'll keep our eyes peeled and update you.
In addition to the awesome aforementioned stuff, Dark Horse Deluxe is developing a host of novelty and collectible products including a sculpted coin replica, as well as a pint glass set and shot glass set commemorating the infamous watering hole of the Gods, Jack's Crocodile Bar.
ICYMI, American Gods is a show about the war brewing between the Old Gods and New. The traditional Old Gods, with mythological roots from around the world, fear irrelevance as their believers die off or are seduced by the money, technology, and celebrity offered by the New Gods. Shadow Moon (Ricky Whittle) is an ex-con who, left adrift by the recent death of his wife (Emily Browning), becomes the bodyguard and traveling partner to conman Mr. Wednesday (Ian McShane). But in truth, Mr. Wednesday is a powerful old deity, on a cross-country mission to build an army and reclaim his lost glory.