Disclosure: This post may contain affiliate links to help support our free community. This 100% free to you, and keeps the lights on for us!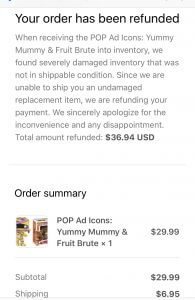 Unfortunately, it looks like some of the Funko-Shop Yummy Mummy and Fruit Brute orders from Wednesday 5/17 are being cancelled due to damage.
Hopefully not too many are cancelled because these are super cool!