Disclosure: This post may contain affiliate links to help support our free community. This 100% free to you, and keeps the lights on for us!
The comic books on Free Comic Book Day are free., That is, for the customers, the retailers still have to pay for them. And after Free Comic Book Day they are also allowed to charge for them too.
But alongside the free comic books, recent years have seen other items available for sale. Toys, statues and the like. The Funko POP Iron Fist was a popular one.
Well for 2018, Free Comic Book Day will have a lot more of that sort of thing. Bleeding Cool has learnt that alongside the fifty-plus-change free comic books given away that day, Wizkids/NECA will also provide Dice Masters Promo Starter Packs to give away, as well as DC Comics Trinity symbol metal pins, Spider-Gwen metal pins and a Marvel Heroclix exclusive figure of the Gladiator Hulk from Planet Hulk/Thor Ragnarok.
While for solid hard cash, DC Comics has licensed a Batgirl & Nightwing Comic Vinimate 2 pack for $19.99, Marvel has a Marvel Gallery PVC Diorama for $45, while
Funko Pop will have a Bloody Lying Cat figure from Brian K Vaughan and Fiona Staples' Saga. For $11.99.
That's really going to be a thing, isn't it. Funko POP Saga.
Does that mean the rest of the characters are on the way too?
Here's a great custom-job version of how a Funko POP Lying Cat might look…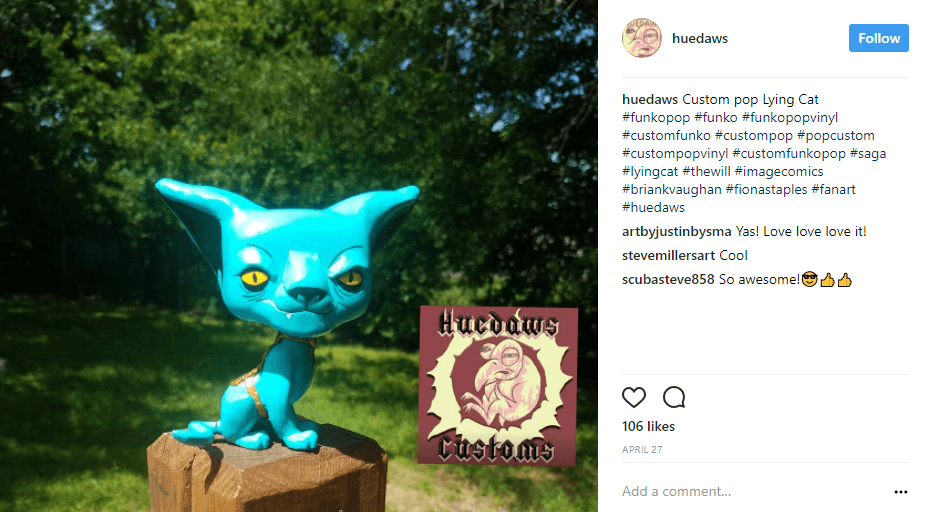 Free Comic Book Day will be on Saturday May 5th.
Major publishers such as DC Comics, Marvel Comics, Dark Horse Comics, IDW Publishing, and Image Comics put out free comics for fans to enjoy at the more than 2,300 local comic shops participating in Free Comic Book Day. There's truly a book for everyone: from superheroes, to popular film and television shows, to beloved video games, and all-ages stories. Popular series from past years have included Bob's Burgers, Doctor Who, Assassin's Creed, and SpongeBob.