Disclosure: This post may contain affiliate links to help support our free community. This 100% free to you, and keeps the lights on for us!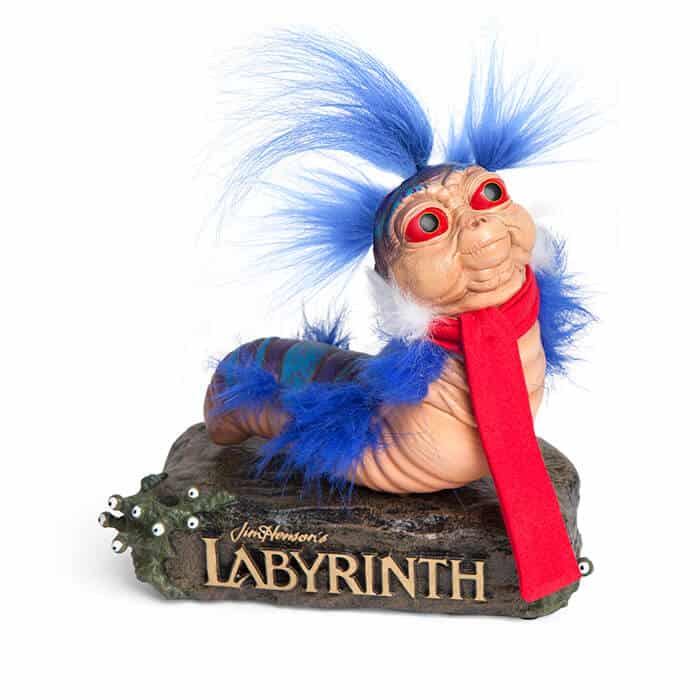 'ELLO!
What a night. Sarah's parents leave her to babysit her little brother, never bothering to ask if she has plans. Goblins come and take the poor boy away. Then she finds herself outside the Labyrinth, tasked with finding her way to the center or losing her baby brother forever! David Bowie sure could be mean. Once inside the Labyrinth, the first creature she meets is only referred to as "The Worm" (and no complaining, because she met Hoggle outside the Labyrinth). And if she just took the time to come inside, she might have learned the easy way to get through.
So, come inside, have a nice cup of tea, meet the missus, and take a little magic from the Labyrinth home with you now, when you buy this Labyrinth 'Ello Worm 1:1 Scale Statue. Chronicle Collectibles made this guy especially for us. With tufts of hair and a fabric scarf, he's perched as if he's about to offer advice on a rock from the wall, only this one has the film's logo on it in case people seeing your statue are confused about where they've met this little guy before. Best part? He's actual size.
Product Specifications 
Labyrinth 'Ello Worm 1:1 Scale Statue
Officially-licensed Labyrinth collectible
A ThinkGeek / GameStop exclusive
Scale: Actual size
Created using the original puppet itself at Henson studios
Fluffy, shapeable hair tufts and fabric scarf
Materials: Polyresin /stone power and calcium carbonate mixture body with cotton / spandex scarf and polyester / acrylic hair
Imported
Dimensions: 6″ wide x 5 3/4″ tall x 2 3/4″ deep
Weight: 1 lb.