Disclosure: This post may contain affiliate links to help support our free community. This 100% free to you, and keeps the lights on for us!
Sith Trooper Geeki Tikis – Early Release Edition – $20
Sith Trooper Mini Muglet – Early Release Edition – $7
Beeline Booth #2913-M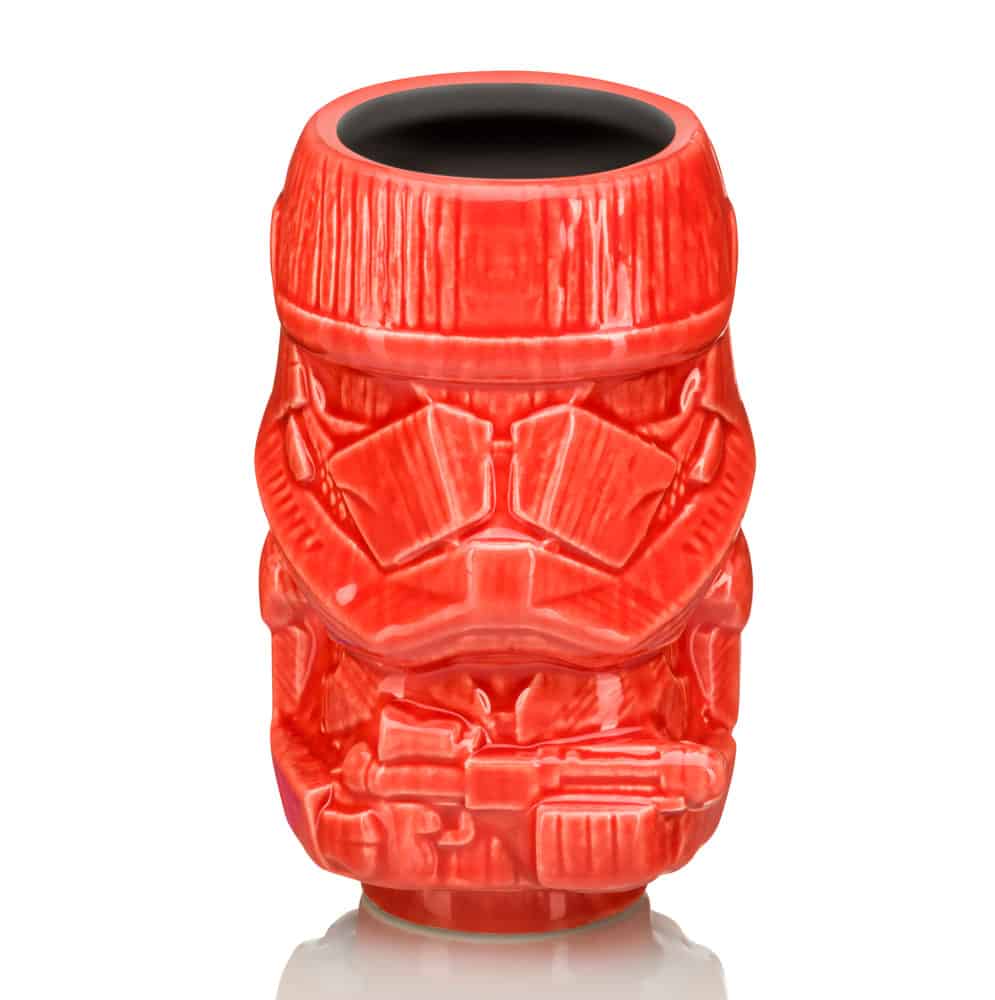 Sith Trooper Tee (Red Helm Short Sleeve Crew Tee) – Early Release Edition – $28
Fifth Sun Booth #2913-J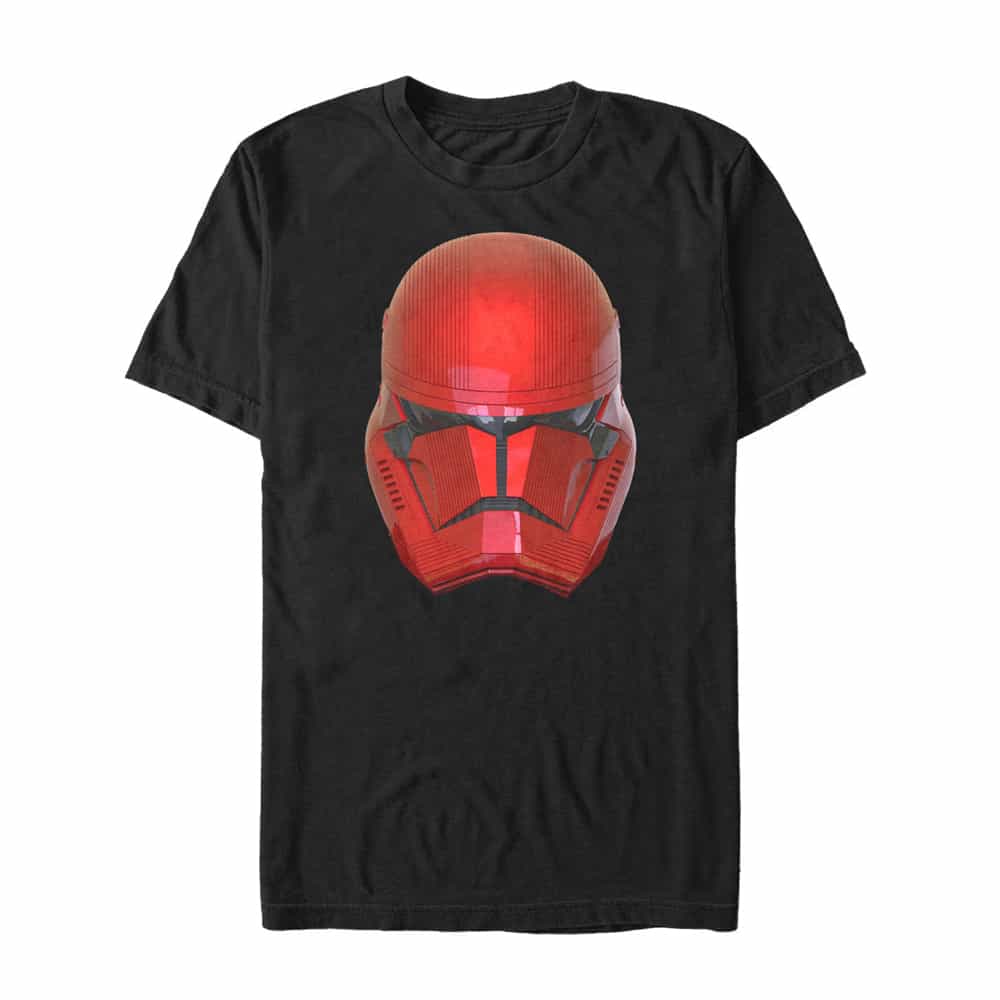 Sith Trooper Pop! – Early Release Edition – $15
Funko Booth #5841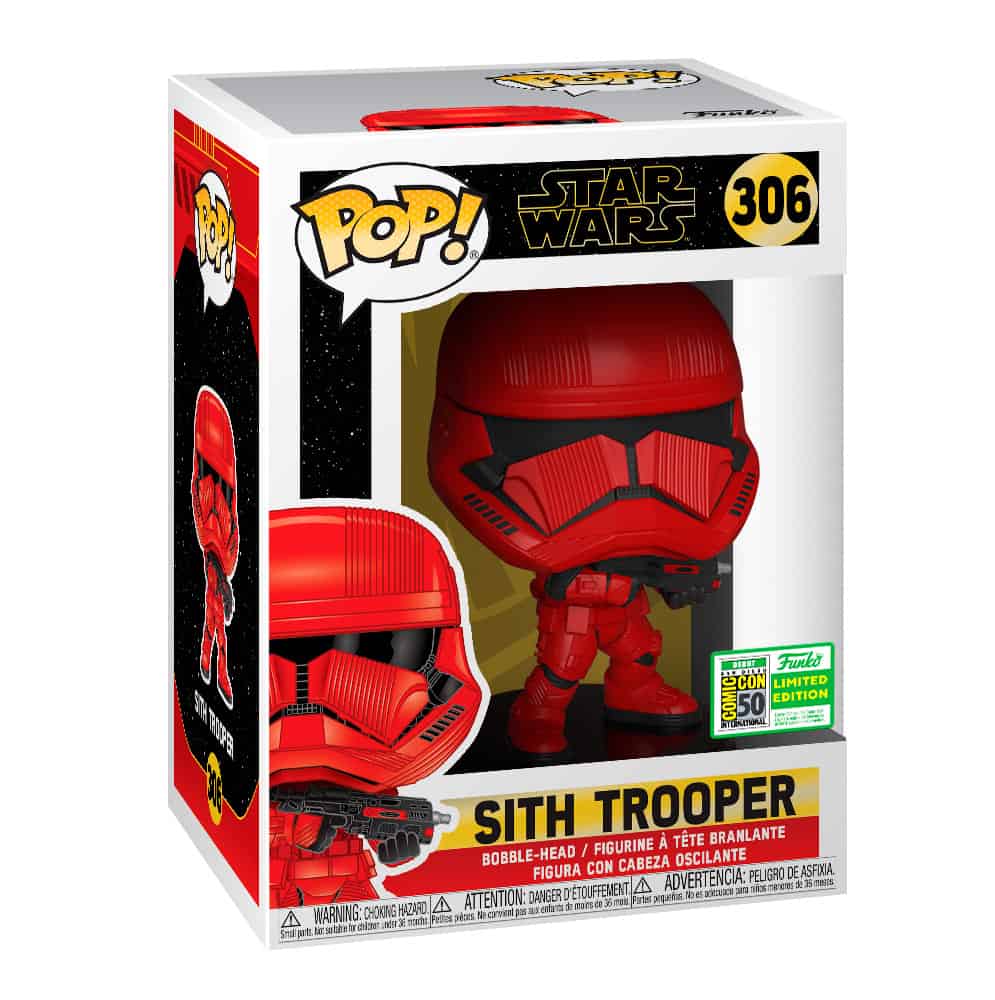 The Black Series Special Edition Sith Trooper – Early Release Edition – $32
Hasbro Booth #3329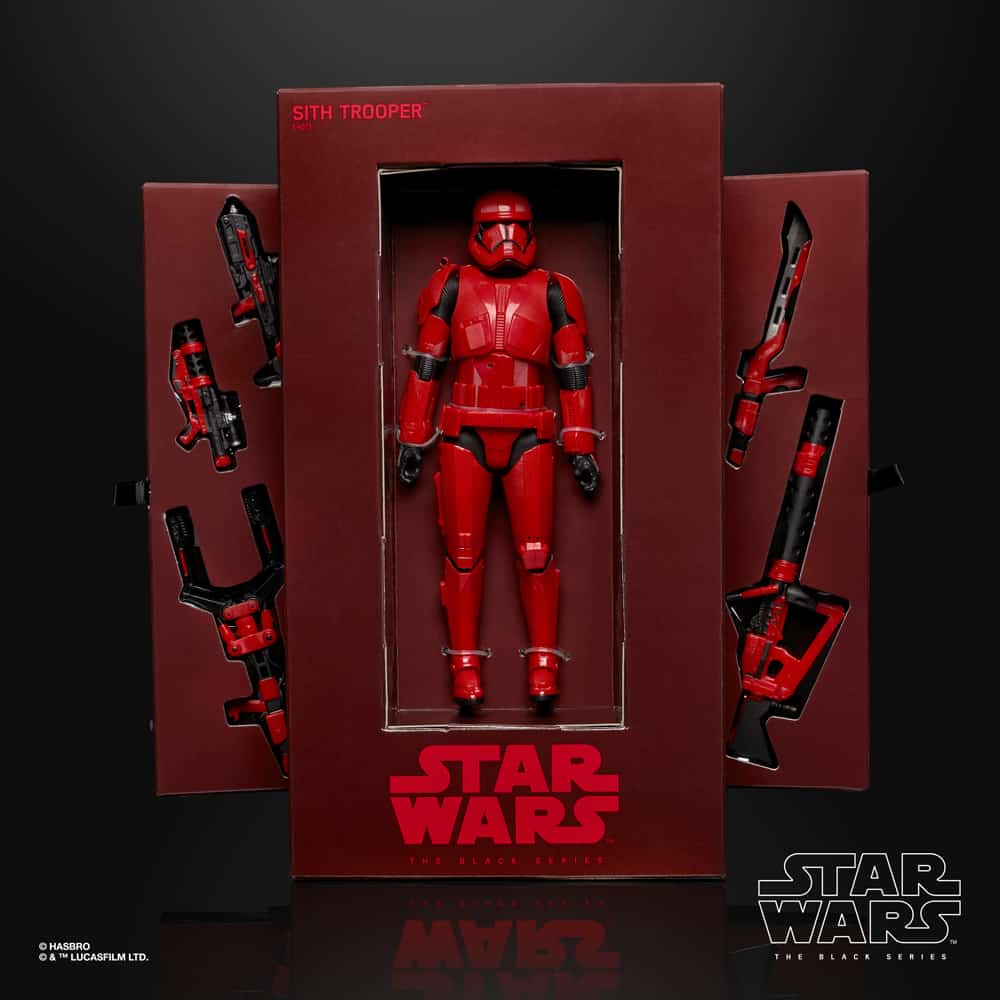 Sith Trooper Hat – Early Release Edition – $20
Sith Trooper Pin – Early Release Edition – $30
Hat and Pin Combo – $50
Bioworld Booth #2913-K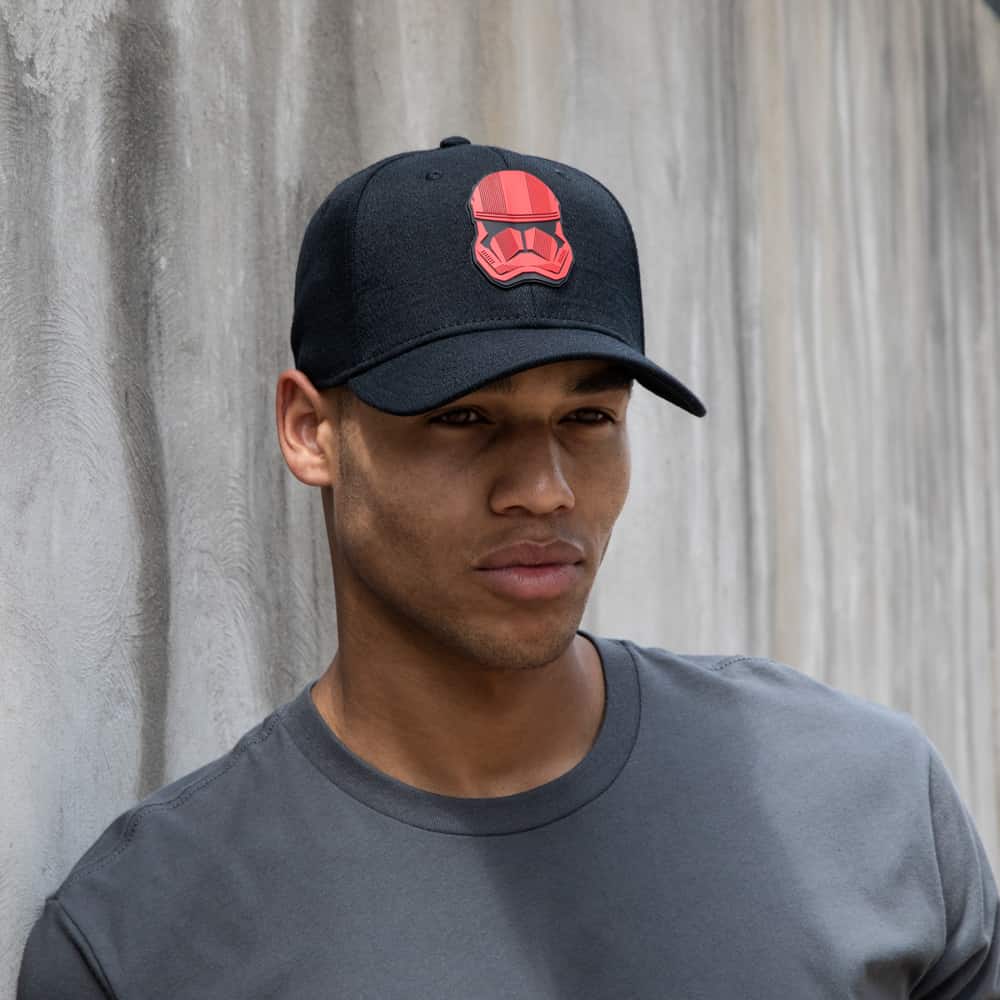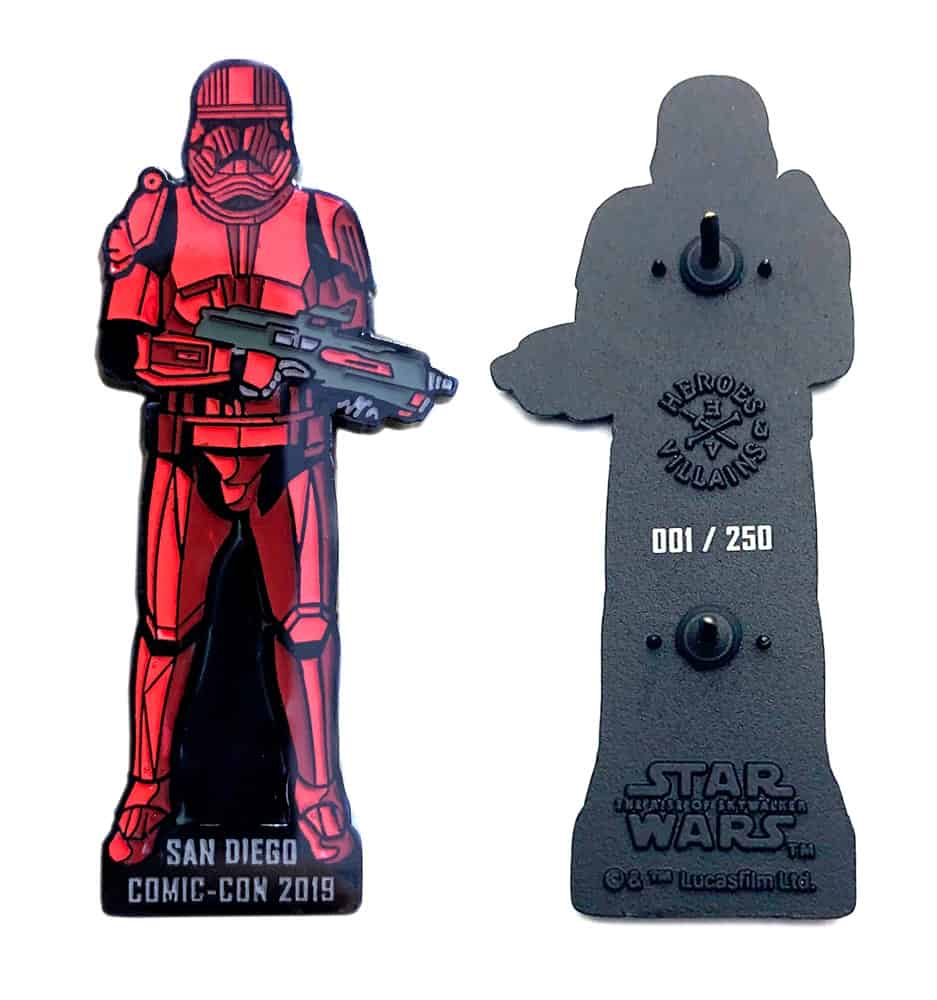 Sith Trooper 1/6 Scale Figure – Early Release Edition – $230
Hot Toys Booth #1929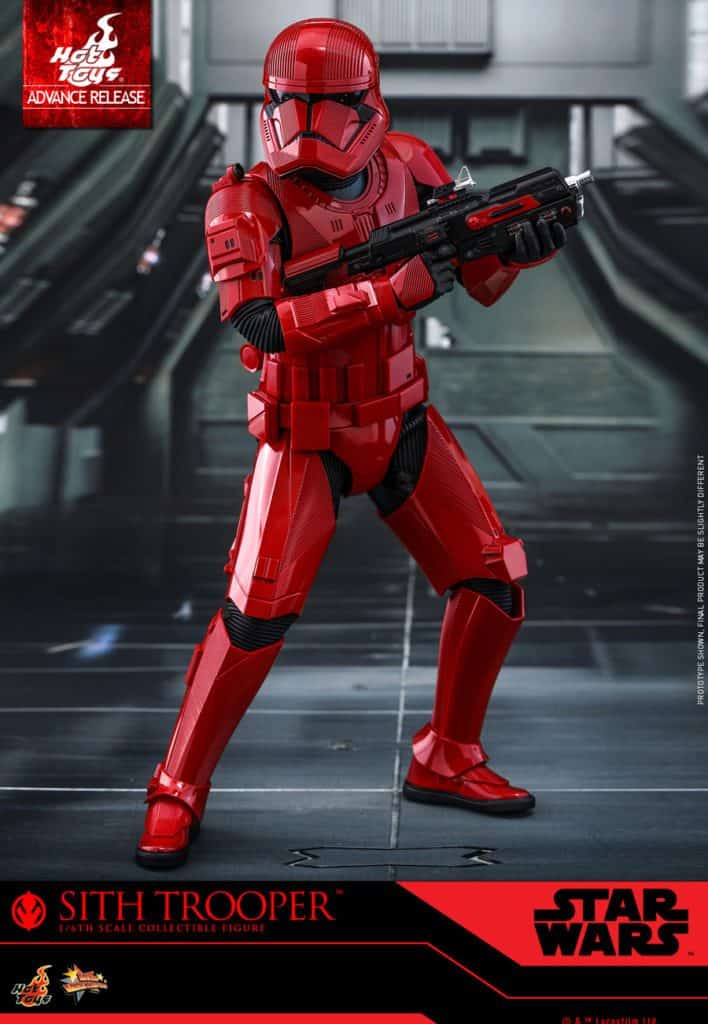 Sith Trooper Unisex Backpack – Early Release Edition  – $70 
Sith Trooper Backpack with Sith Trooper Funko Pop! – $75
Loungefly Booth #5248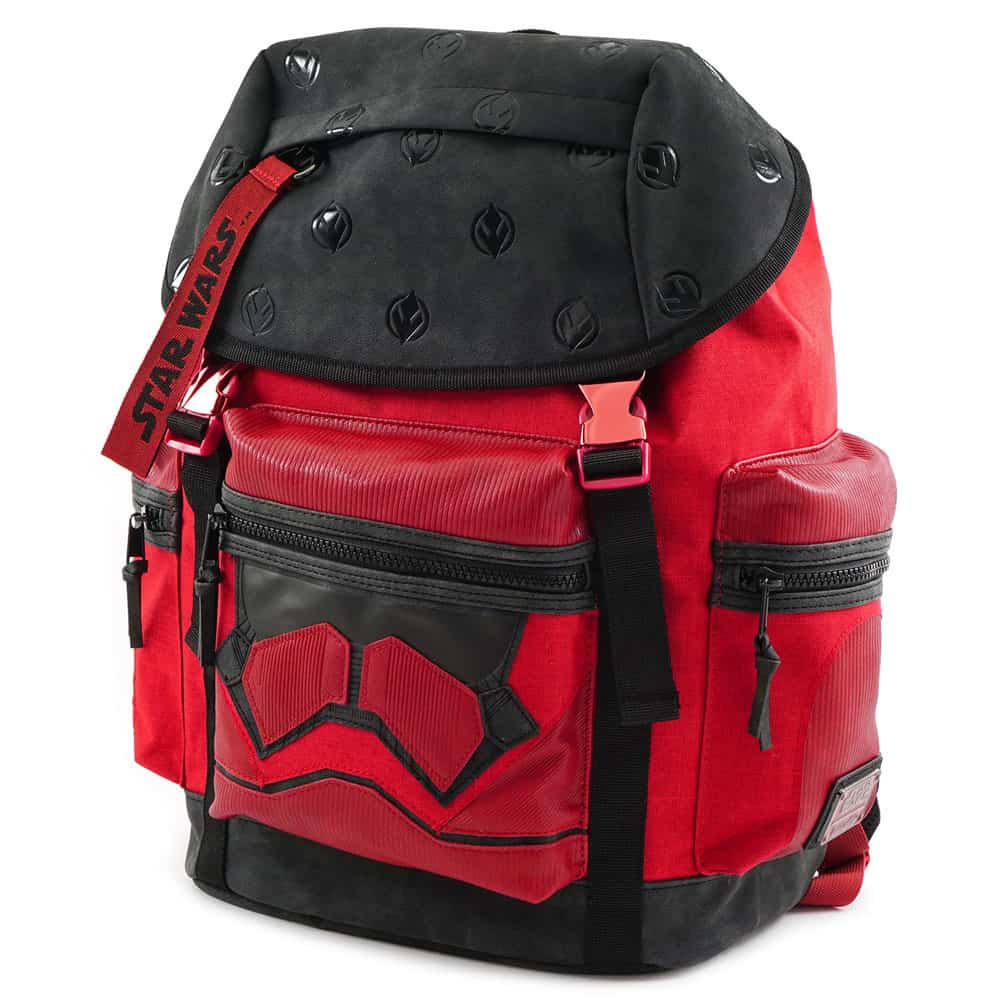 Sith Trooper costume sets and masks – Early Release Edition – $6-$75
Rubie's Booth #4049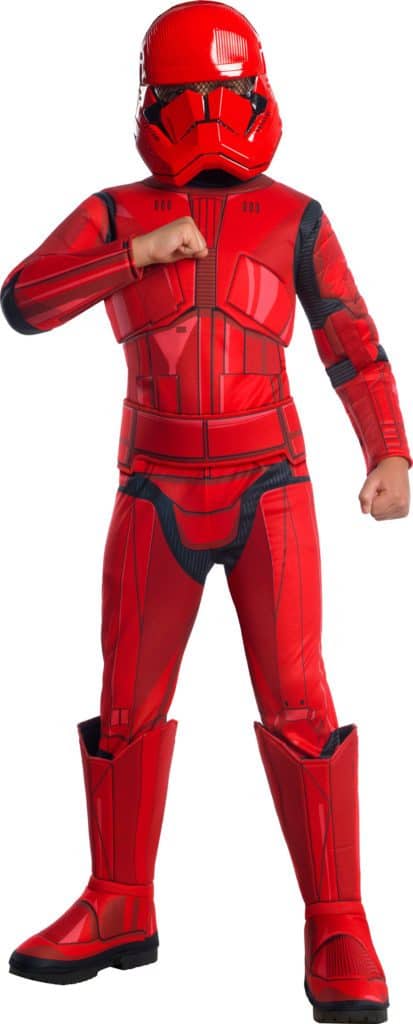 Sith Trooper Premier Bookmark Giveaway
Trends International Booth #2913-D

Star Wars: The Power of the Dark Side Trading Card Set – $50
includes bonus Sith Trooper card and Star Wars Authentics Sith Trooper Photo
Topps Booth #2913-B
Acme Archives – Booth #5629
"Shiny Return" Color Variant ($65) and Echo Base Root Beer Color Variant ($55) by Steve Thomas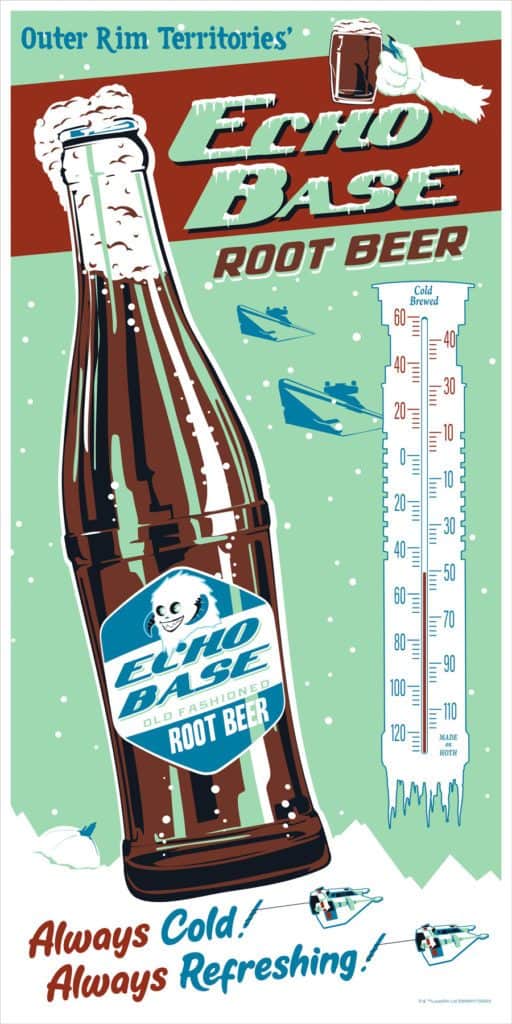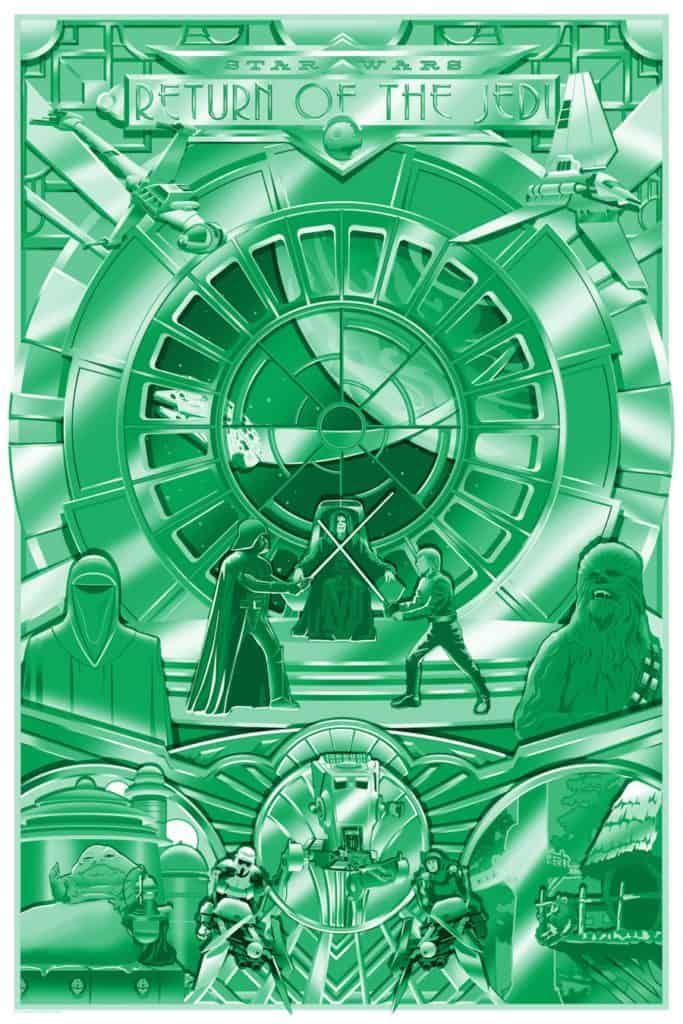 Diamond Select Sandtrooper SDCC exclusive
Diamond Select – Booth #2607
Star Wars Concept Sandtrooper 1/6 Scale Mini-Bust ($120)
Inspired by the concept art of the legendary Ralph McQuarrie, Diamond Select's gorgeous mini-bust brings an early version of the sandtrooper to life.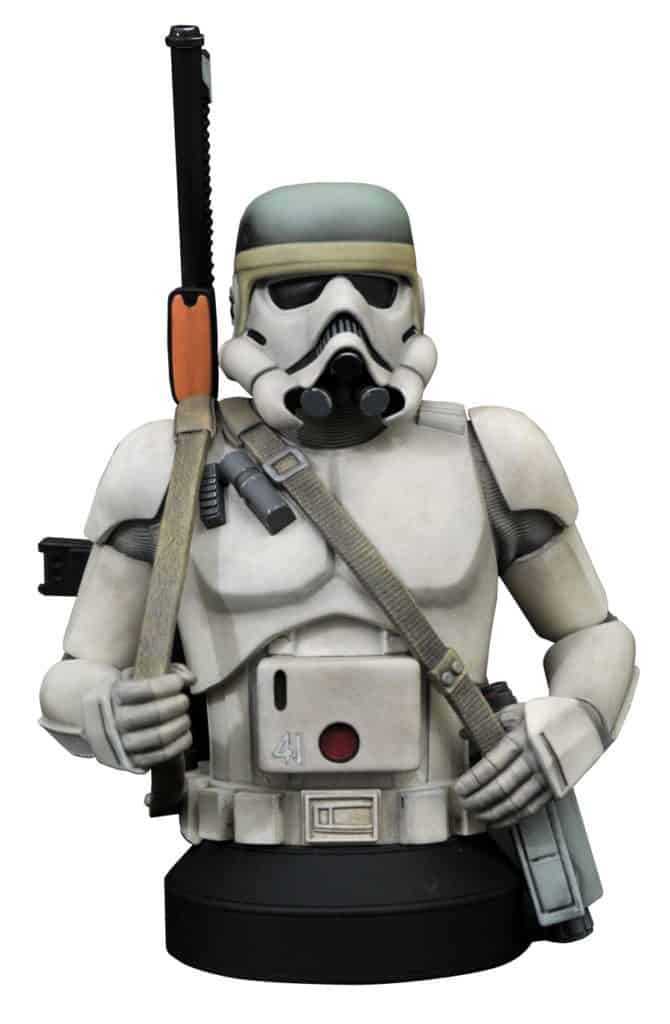 Fifth Sun – Booth #2913-J
Dat Boba Tee and Divided Forces Tee ($28 each)
These two exclusive tees from the masters at Fifth Sun are stunners, one with a striking image of the famed bounty hunter, and the other celebrating the entire saga.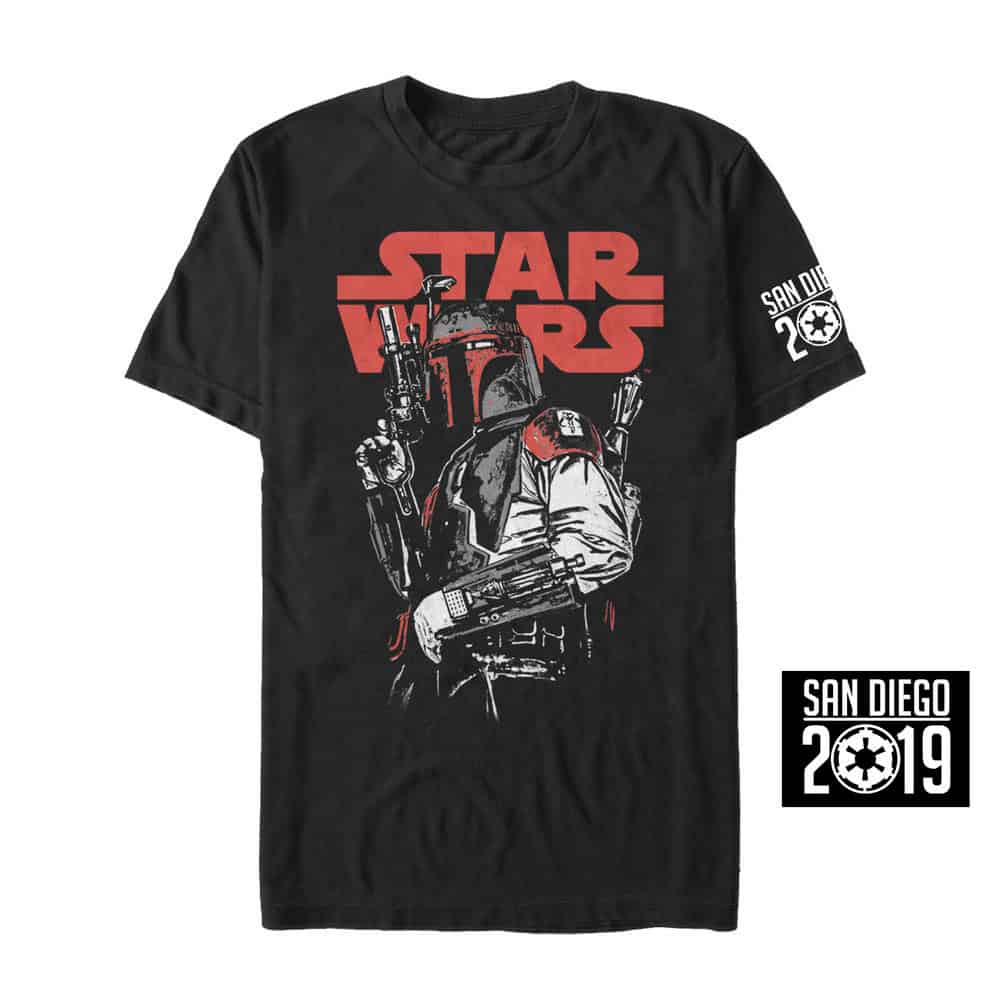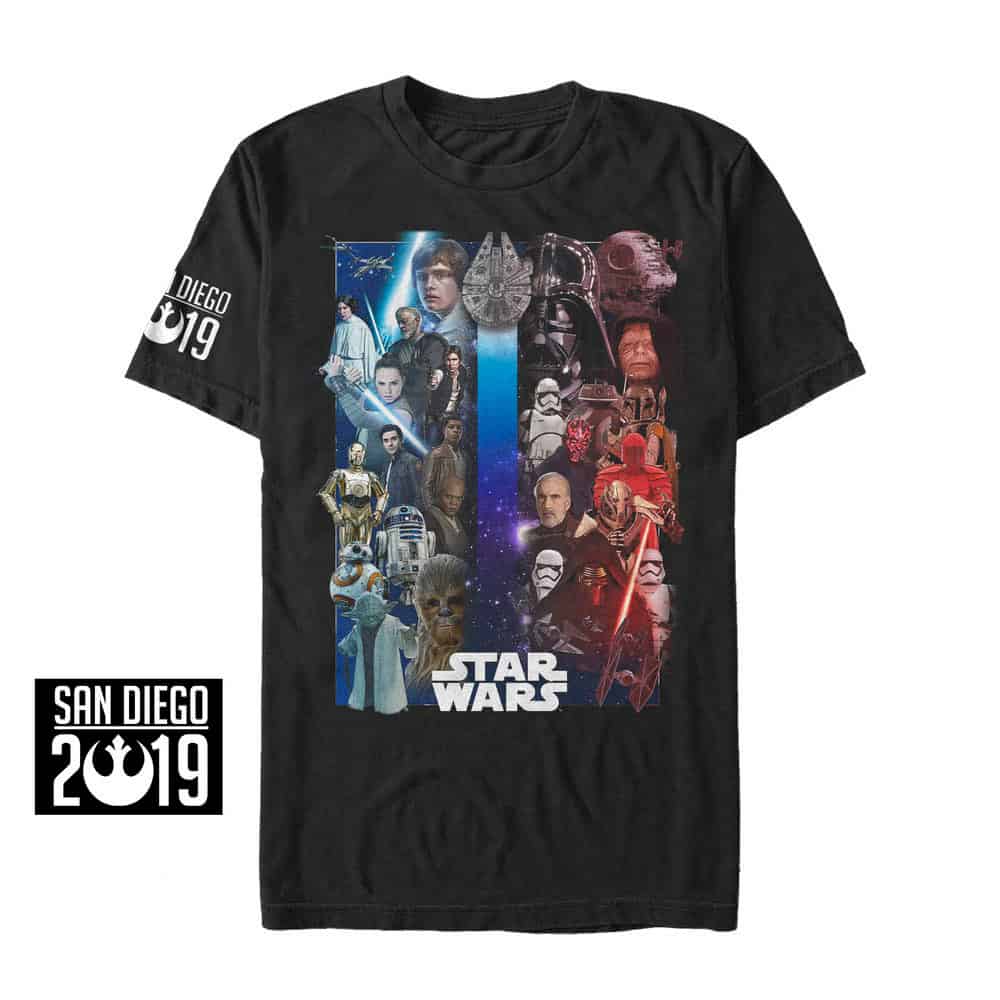 Funko – Booth #5841
Yoda (Green Chrome) Pop! (shared exclusive with Amazon) ($15)
Boba Fett (Green Chrome) Pop! (shared exclusive with FYE) ($15)
These chrome variant takes on the Emperor's "little green friend" and the galaxy's most fearsome bounty hunter will be Force-powered — and visually arresting — additions to Funko Pop! collections.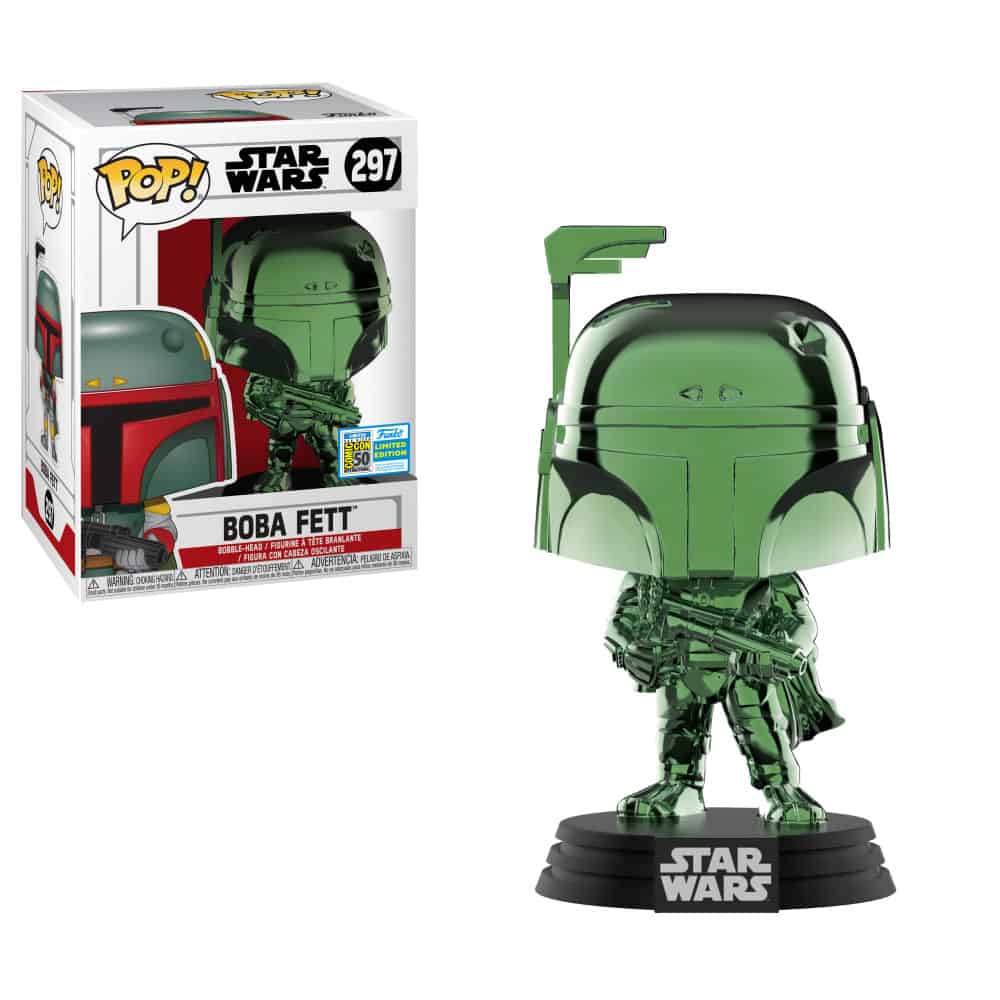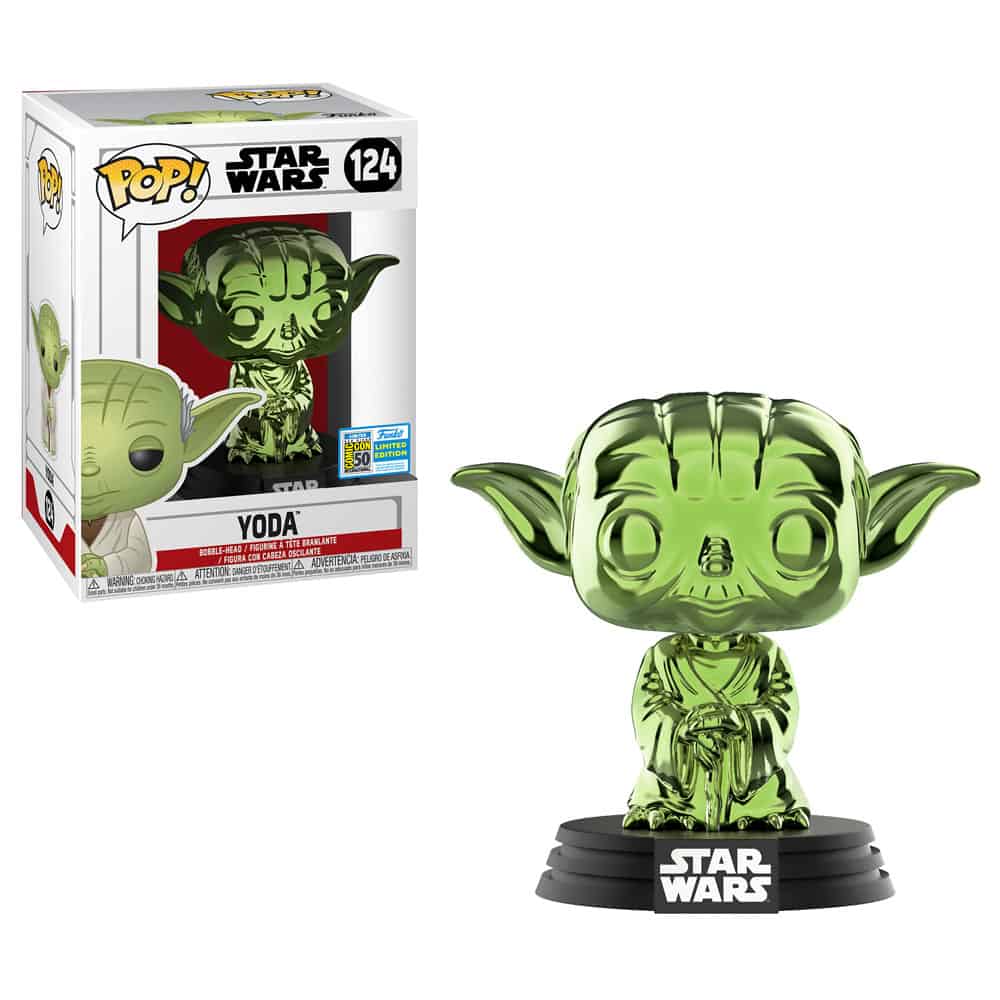 Hallmark – Booth #2913-T
"A Wild Ride on Endor" Keepsake Ornament ($40)
Chewbacca Bandolier itty bittys Carrier ($18; $8 with purchase of three itty bittys)
Hallmark comes to SDCC with a charming new addition to its fan-favorite Star Wars Keepsake Ornaments line and a walking-carpet-approved accessory for itty bittys collectors.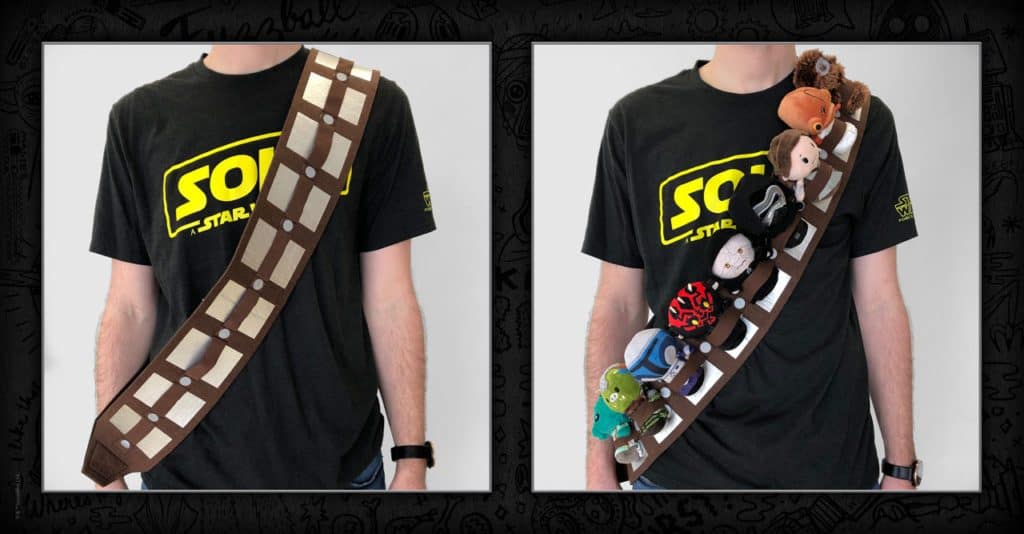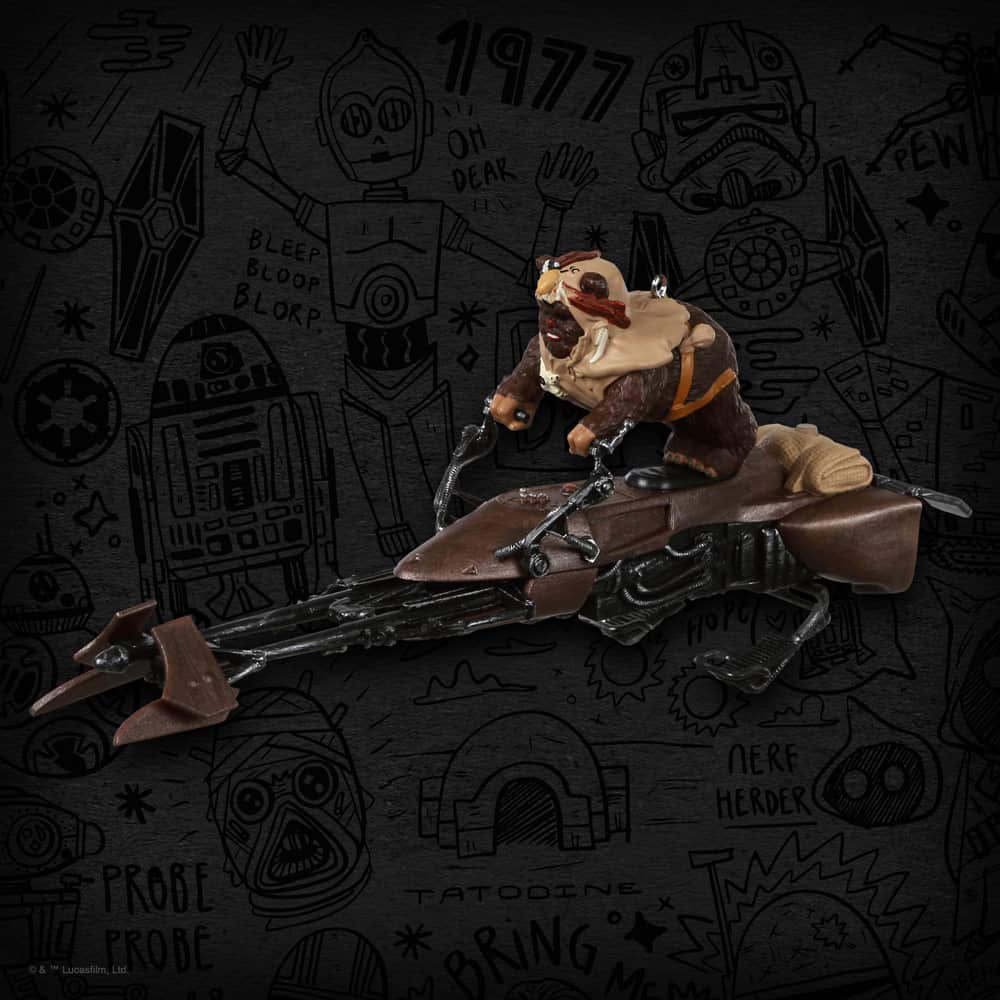 Hasbro – Booth #3329
Luke Skywalker Jedi Destiny 3-Pack ($54)
Kenner-Inspired 6-inch Boba Fett ($27)
Special Edition Prototype Darth Vader (Entertainment Earth exclusive, Booth #2343) ($12.99)
Hasbro is honoring Star Wars icons and action-figure history at SDCC with incredible retro-inspired exclusives: the Luke Skywalker Jedi Destiny 3-Pack (featuring 3.75-inch figures based on Luke's appearance in each film of the original trilogy, in vintage packaging), a redeco of the 6-inch Black Series Boba Fett in the color scheme of the classic Kenner toy, and a Kenner-style Darth Vader in bright, prototype colors. For Star Wars action-figure collectors, these look like must-haves.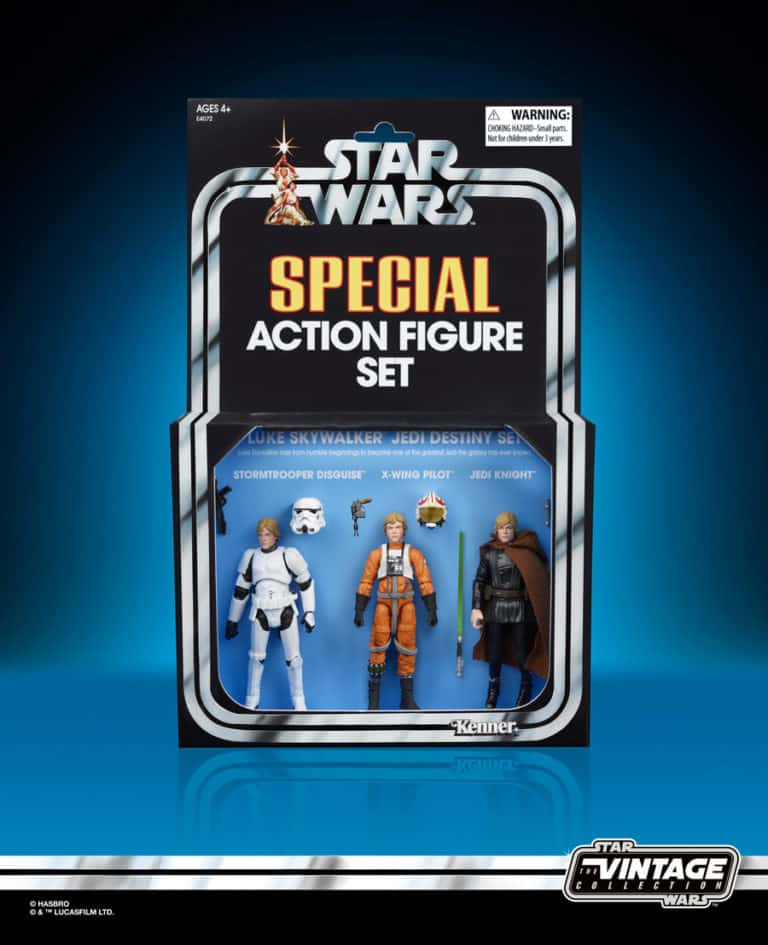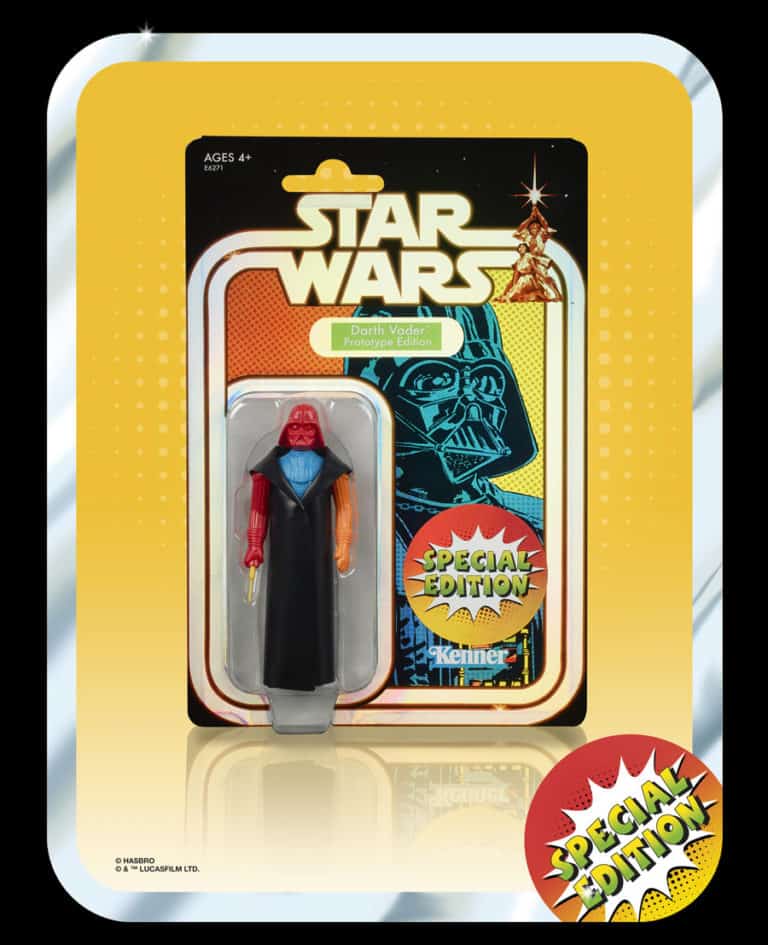 Lladró – Booth #2913
"Born to Rebel" Queen Amidala Pre-Order
The makers of gorgeous porcelain creations are launching "Born to Rebel," a new line of handmade Star Wars sculptures. Fans can pre-order the first sculpture of the series — Queen Amidala, in celebration of Star Wars: The Phantom Menace's 20th anniversary — at SDCC.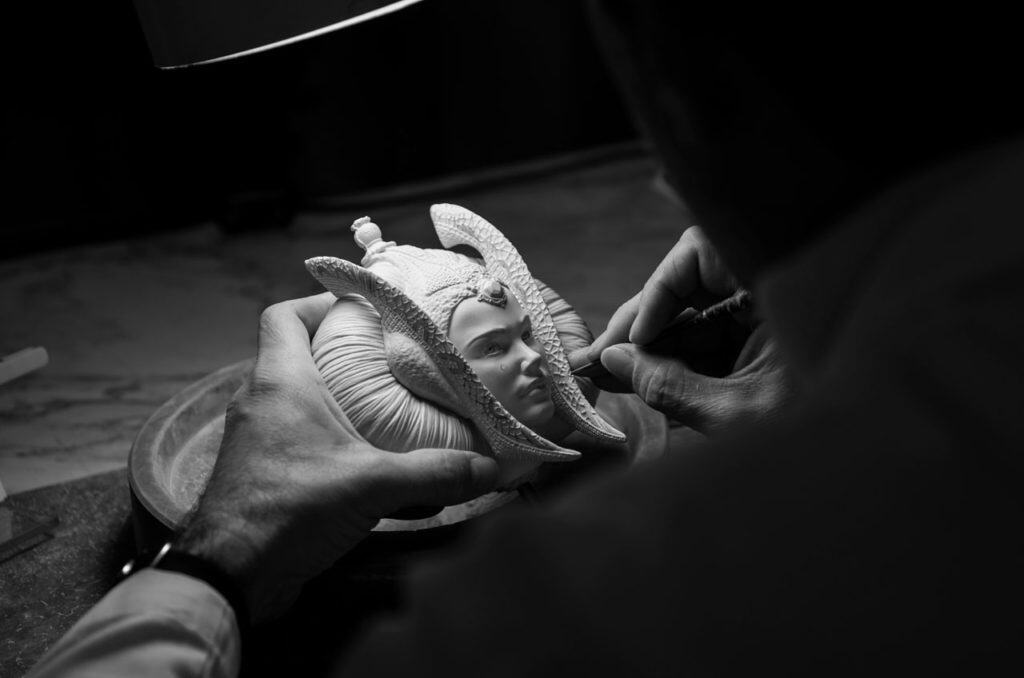 Mattel – Booth #2945
Mouse Droid Character Car ($10)
The adorable mouse droid joins Mattel's Hot Wheels Character Car line — essential for fans of the Empire and the iconic toy car series.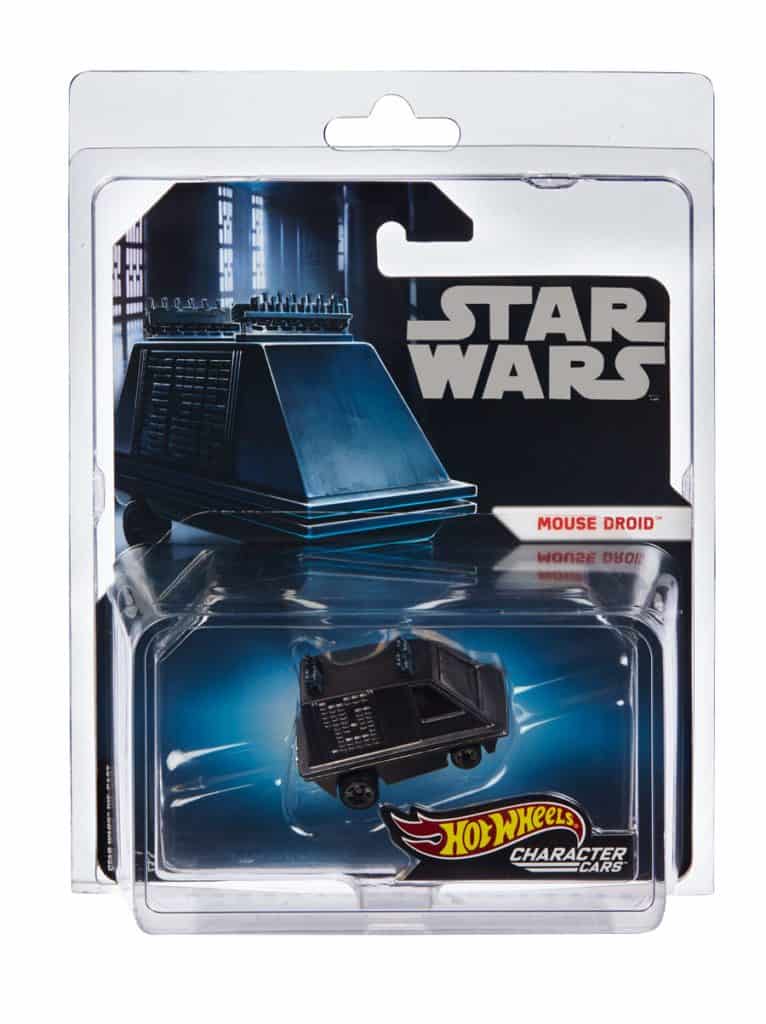 Monogram – Booth #3645
Character Bag Clips ($25)
Strap on your jetpacks and zoom over to Monogram's booth, for this cool set honoring the Fett family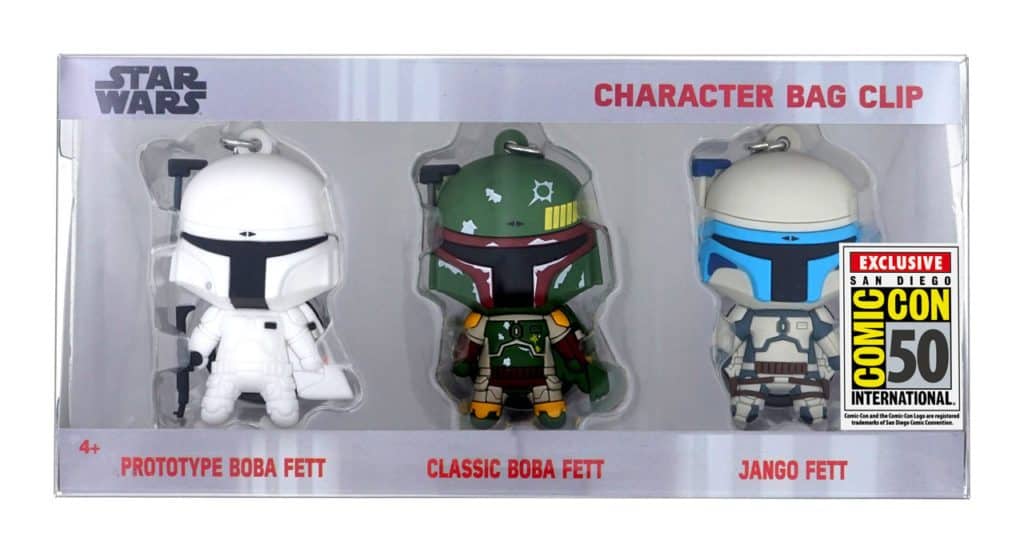 Nixon – Booth #2913-I
Skywalker Sentry Chrono ($350)
Skywalker Cinch bag ($25)
Limited to only 150 units, the Skywalker Sentry Chrono watch is filled with clever details and an altogether beautiful design. In super stealth matte black stainless steel, it features custom dials with the insignias and weapons of Luke, Darth Vader, and the Death Star; flip it over and you'll see a custom caseback with father/son portraits etched in.
The Skywalker Cinch Bag, limited to 500 units, features custom blue and red straps representing Luke and Darth Vader's lightsabers and other subtle details, making this a perfect partner to the Skywalker Sentry Chrono watch.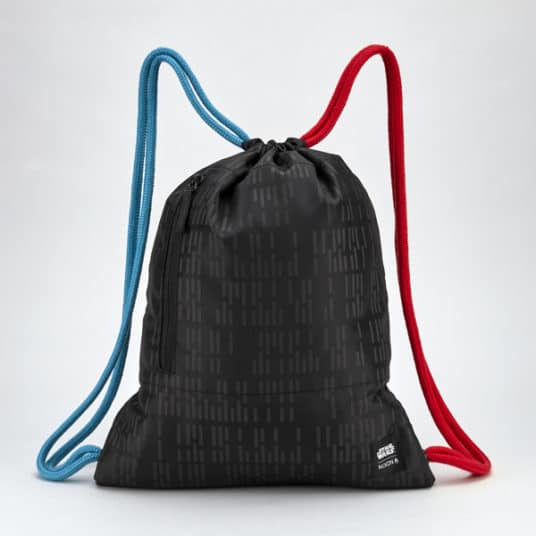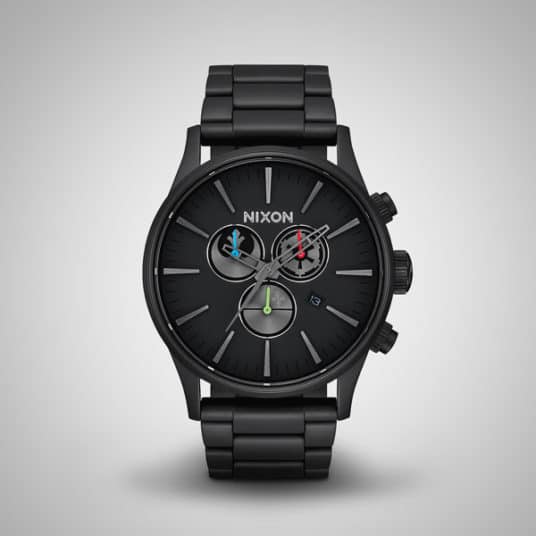 PerfectShaker – Booth #1122
Boba Fett PerfectShaker ($14.99)
Beat the Tatooine heat with this exclusive Star Wars PerfectShaker featuring a bold, stylized take on Boba Fett.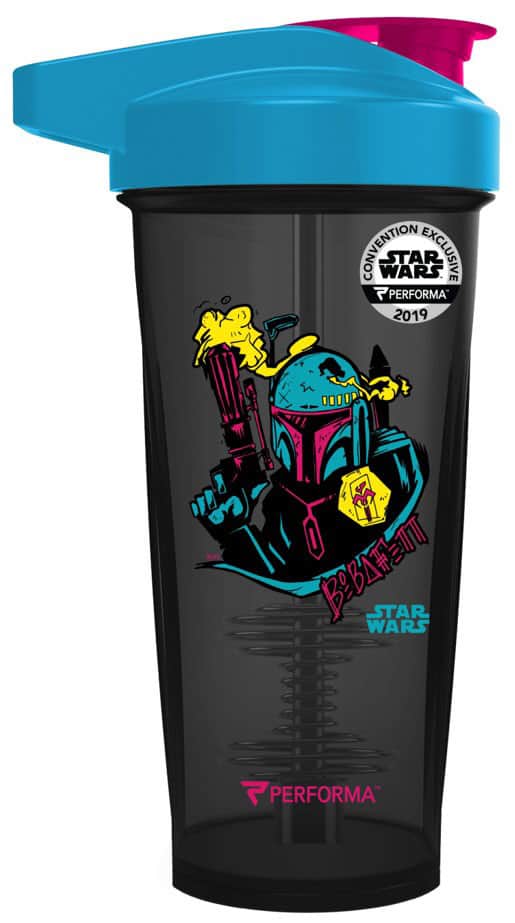 Regal Robot – Booth #2913-E
Jabba's Dais Gargoyle Magnet ($20; $29 at RegalRobot.com during SDCC)
Here's an exclusive His High Exaltedness would love. Regal Robot brings Jabba's Dais Gargoyle Magnet, limited to 250 units and inspired by one of the crime lord's more unique decorative accents, to SDCC. Each is hand painted in the USA in a realistic bronze and patina style.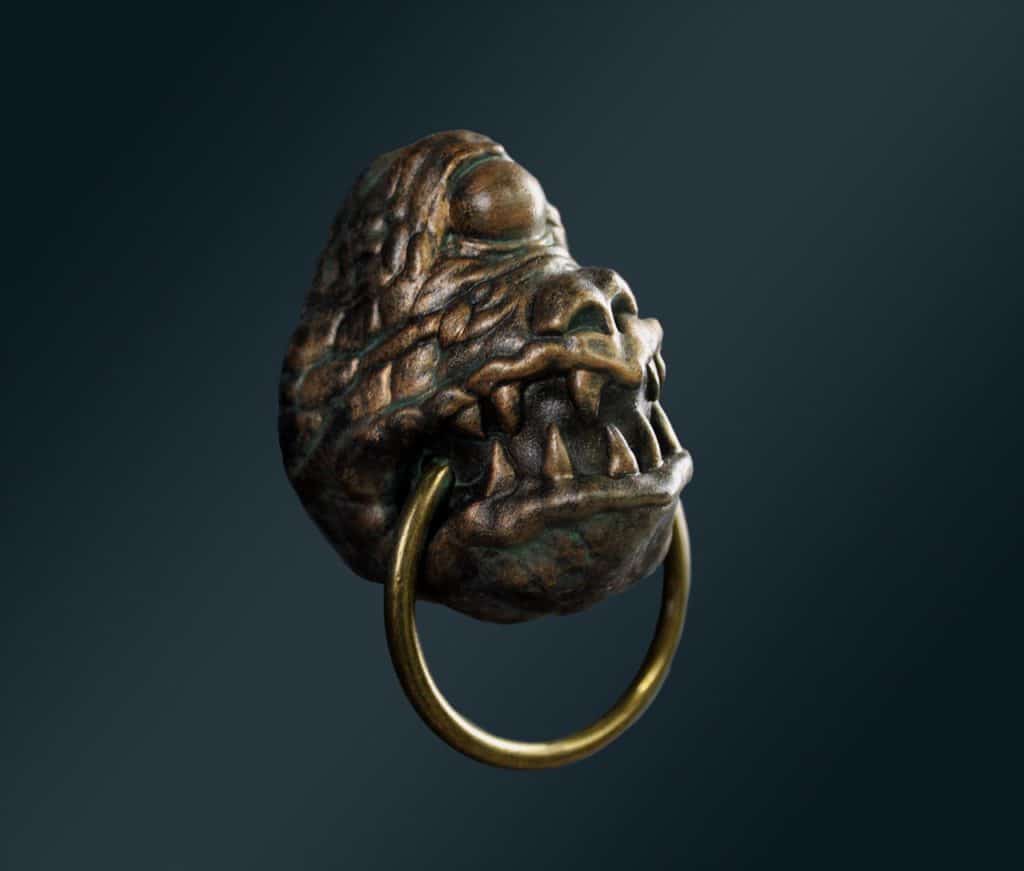 SalesOne – Booth #4437 & #815
Medal of Yavin ($75) and Han Solo in Carbonite Pin Set ($15)
Both TOYNK retailer exclusives, SalesOne's Medal of Yavin replica (24K carat gold) and Han Solo-themed pin set are beautifully designed and sure to appeal to rebels everywhere.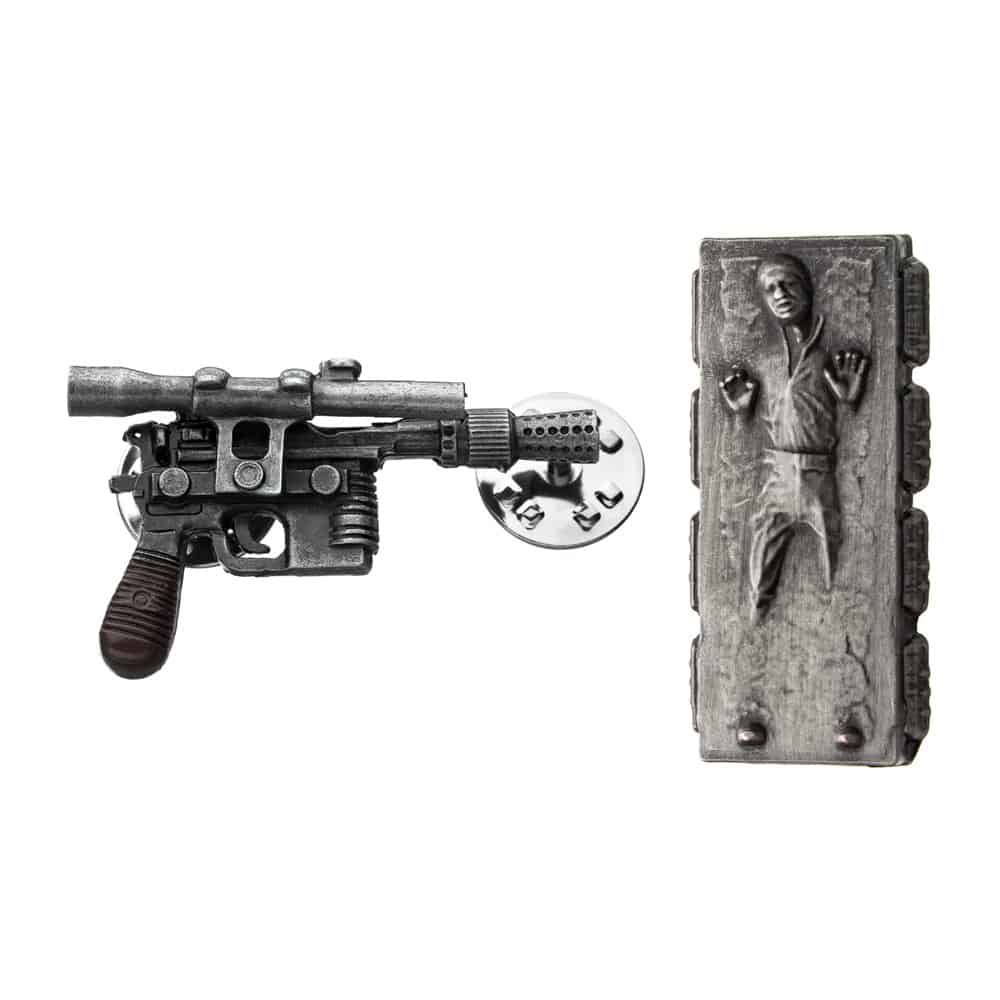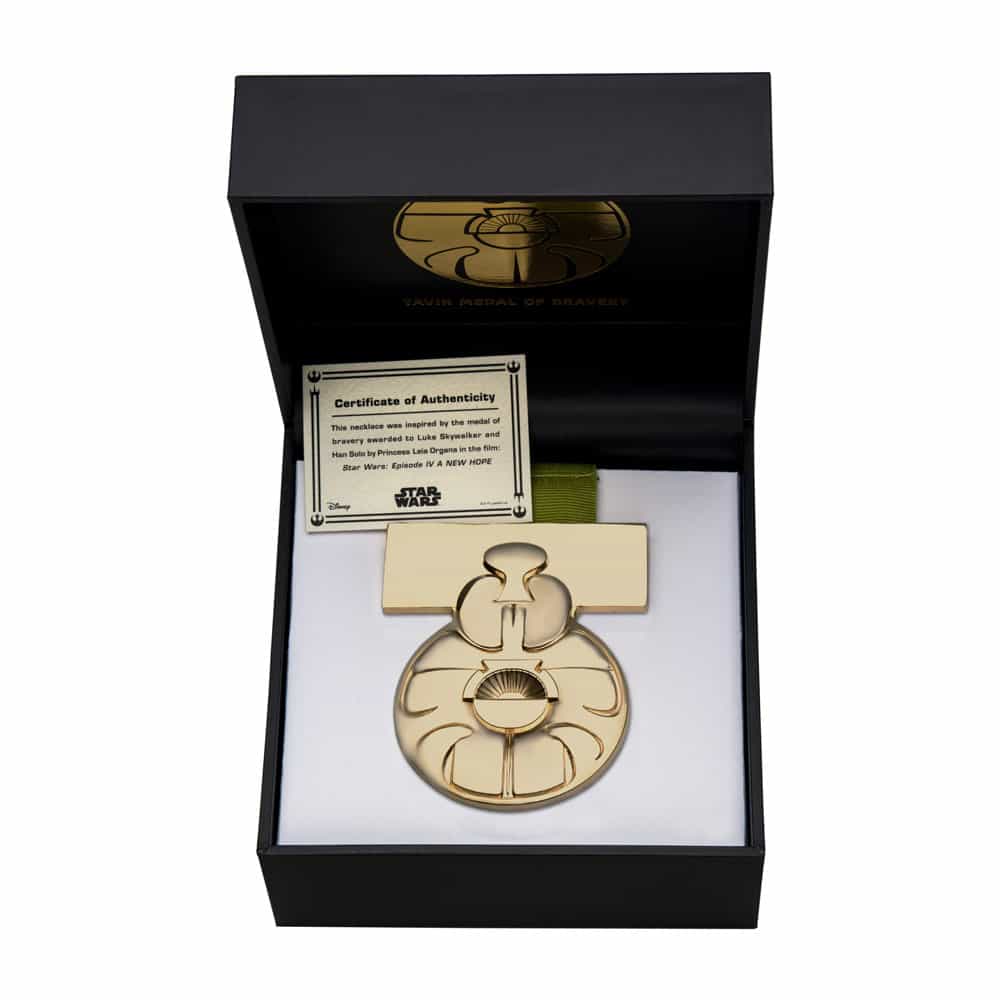 Seven20 – Booth #3749
Skywalker and Mos Eisley Pint Glass 2-Pack ($10)
These handsome and clever pint glasses come courtesy of Seven20, and feature the logos of two what-if Tatooine businesses: Mos Eisley Trading Co. and Skywalker and Son Landspeeder Service and Repair.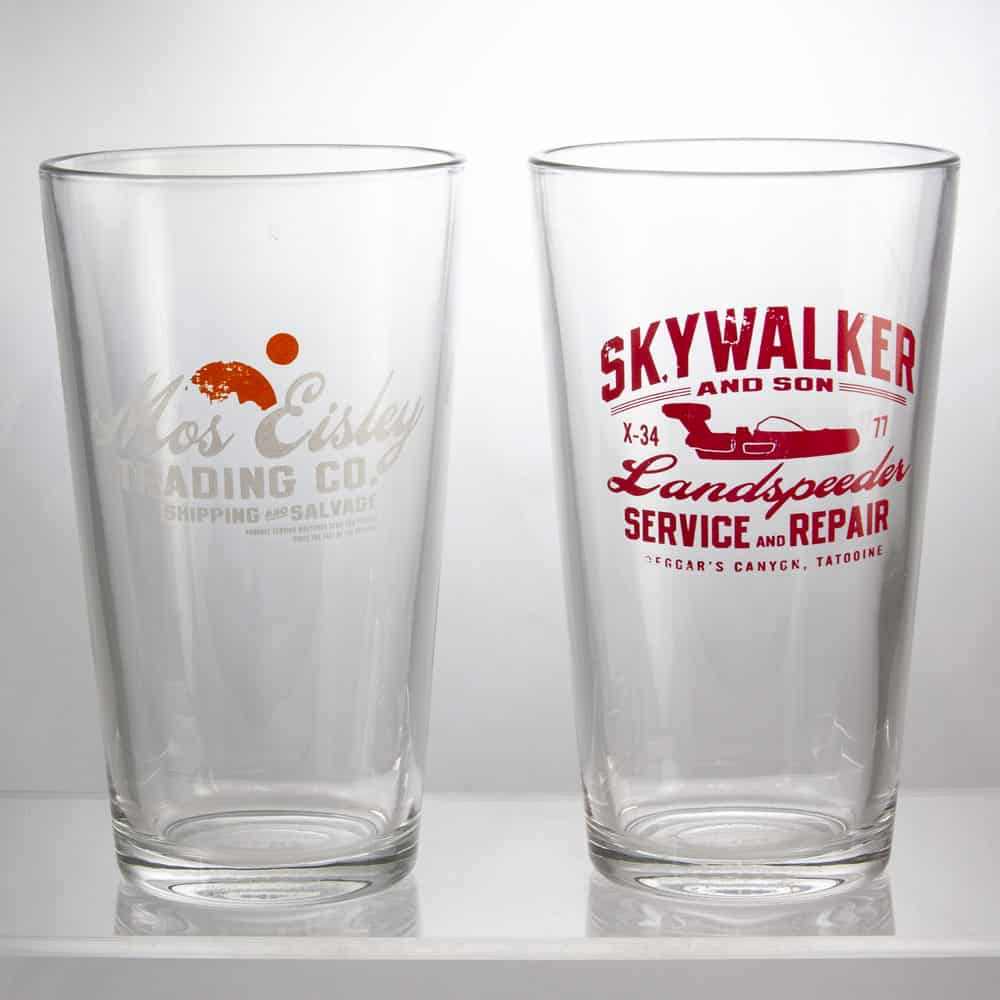 Stance – Booth #2913-G
Rebels 2-Pack ($40)
Empire 2-Pack ($40)
Blueprint 4-Pack ($100)
Stance celebrates the saga with three different exclusives. The Blueprint 4-pack comes with all socks included in the Rebels and Empire sets (featuring the Millennium Falcon, X-wing, TIE fighter, and the Lambda Class T-4A shuttle), as well as two exclusive blueprints printed on vellum paper, showcasing the Millennium Falcon and TIE fighter, and limited to 50 pieces.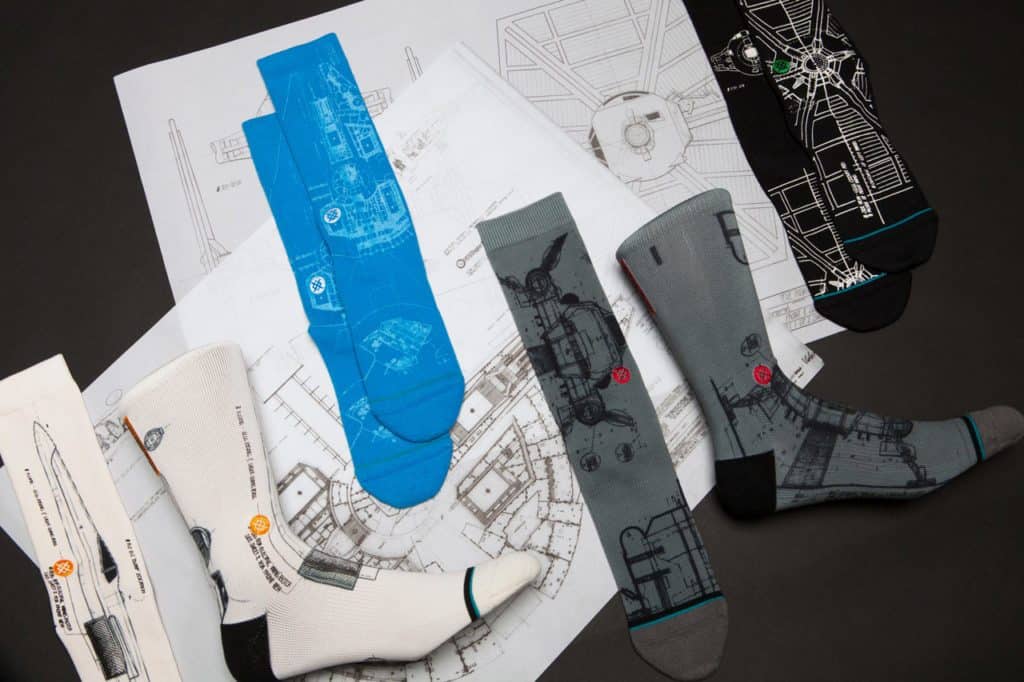 Trends International – Booth #2314-D
Star Wars Decals and Posters (prices vary)
If you need to add some Star Wars decor to your life, these are the exclusives you're looking for. Trends International will offer posters (ranging from the Battle of Hoth to Star Wars: The Phantom Menace), vinyl decals, and more.