Disclosure: This post may contain affiliate links to help support our free community. This 100% free to you, and keeps the lights on for us!
First up is a brand new, very limited, @therealelvira Funko Pop! figure featuring ELVIRA in a purple glitter dress, black glitter hair and shoes, with special paint features.
A Funko DIAMOND COLLECTION POP!
This Funko Pop! will be available for purchase at Elvira's booth on the following days and each day will be limited to a specific quantity sold. 👉Thursday, October 31st – 1,000 will be sold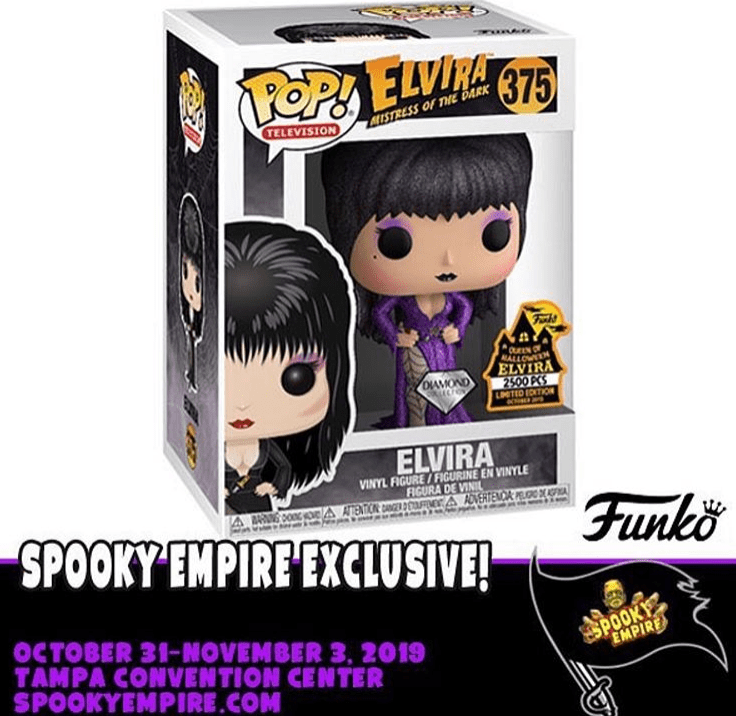 Friday, November 1st – 1,000 will be sold
Saturday, November 2nd – 400 will be sold
Guidelines are: One (1) per person, per adult (18+), per paid admission $40 Each, Cash Only, no choosing of boxes Cassandra will be at the show on Saturday and Sunday and will autograph your Pop! for an addt'l $40 per signature.
A good tip – Thursday's are the best day to be the first to grab your exclusives "Spooky Empire strives to please its fans and, along with Cassandra Peterson's team, have decided to bring back this Elvira, Mistress of the Dark (official) Exclusive.
All parties have taken necessary precautions to ensure a smooth and seamless experience." For more information on show times and tickets, please visit spookyempire.com