Disclosure: This post may contain affiliate links to help support our free community. This 100% free to you, and keeps the lights on for us!
SDCC 2020 is not coming this year due to the pandemic, but Funko will still release the exclusives!
BOOKMARK THIS PAGE!
It will be updated every day that there is new information (E: Placeholder Link, Reveals, Shared Locations)
Remember that all Placeholder Links will NOT go live until July 22nd 2020 on Funko.com and the 23rd at shared retailers.
Any information you would like to contribute can be emailed to admins@newtoynews.com
Don't forget, we do this free of charge! If you would like give back you can do so here! Even a cup of coffee helps us stay awake during live link nights!
Guide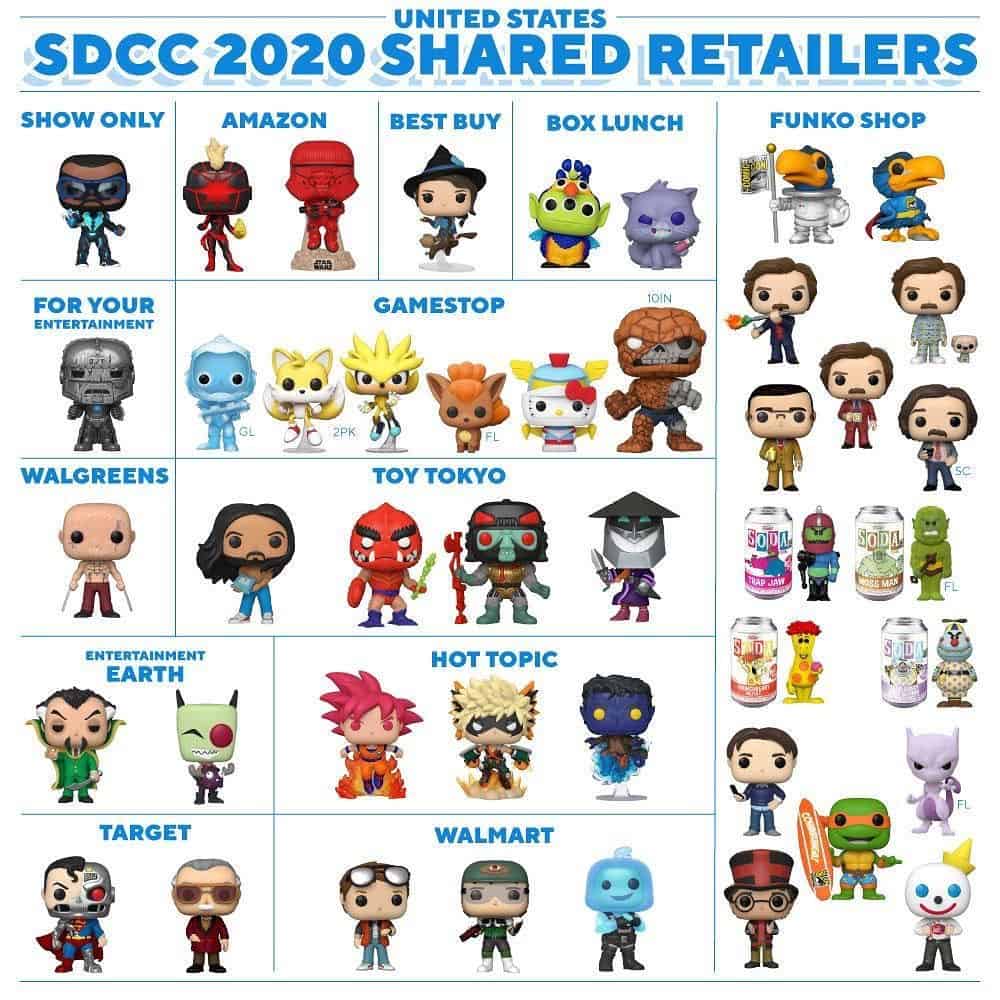 Placeholder Links
| Description | Link |
| --- | --- |
| Pop! Animation: DBS – Super Saiyan God Goku | Link |
| Pop! Animation: My Hero Academia – Bakugo | Link |
| Pop! Marvel‬ – Nightcrawler | Link |
| | |
| | |
| | |
| | |
| | |
| | |
| | |
| | |
| | |
| | |
| | |
| Description | Link |
| --- | --- |
| Pop! Marvel‬ – 10″ The Thing | Link |
| Pop! Games: Pokémon – Vulpix Flocked | Link |
| Pop! Games: Super Tails and Super Silver 2-pack! | Link |
| Pop! Sanrio: Hello Kitty/Kaiju Collab- HK Robot | Link |
| Pop! Heroes: Batman & Robin- Mr. Freeze (GL) | Link |
| | |
| | |
| | |
| | |
| | |
| Description | Link |
| --- | --- |
| Pop! Harry Potter: Harry at World Cup | Link |
| | |
| | |
| | |
| | |
| | |
| | |
| Description | Link |
| --- | --- |
| Pop! Disney: Pixar- Alien as Kevin | Link |
| Pop! Disney: Emperor's New Groove- Yzma as Cat | Link |
| | |
| | |
| | |
| | |
| | |
| Description | Link |
| --- | --- |
| Pop! Ad Icons: Jack in the Box | Link |
| Vinyl Soda: Quaker Oats – Cap'n Crunch – Crunchberry Beast | Link |
| Pop! Games: Pokémon – Mewtwo Flocked | Link |
| Pop! TV: TMNT- Michelangelo w/Surfboard | Link |
| Vinyl Soda: Master of the Universe – Trap Jaw | Link |
| Vinyl Soda: Master of the Universe – Moss Man | Link |
| Vinyl Soda: Tim Burton's the Nightmare Before Christmas – Clown w/Tearaway Face | Link |
| Pop! Harry Potter: Harry at World Cup | Link |
| Pop! Movies: Scott Pilgrim- Wallace w/Phone | Link |
| Pop! Movies: Anchorman | Link |
| Pop! Toucan Astronaut | Link |
| Pop! Toucan Superhero | Link |
| | |
| | |
| | |
| | |
| | |
| Description | Link |
| --- | --- |
| Pop! Animation: Invader Zim- Zim Holding Minimoose | Link |
| Pop! Heroes: DC Super Heroes – Ra's Al Ghul | Link |
| | |
| | |
| | |
| | |
| | |
| Description | Link |
| --- | --- |
| Pop! Marvel‬ – Dark Captain Marvel | Link |
| Pop! Star Wars: The Rise of Skywalker™ Sith Jet Trooper™ | Link |
| | |
| | |
| | |
| | |
| | |
| Description | Link |
| --- | --- |
| Pop! Rocks – Steve Aoki | Link |
| Pop! Animation: Samurai Jack | Link |
| Pop! Masters of the Universe – Blast-Attak | Link |
| Pop! Masters of the Universe – Clawful | Link |
| | |
| | |
| | |
| Description | Link |
| --- | --- |
| Pop! Comics: Jay and Silent Bob Reboot – Iron Bob‬ | Link |
| | |
| | |
| | |
| | |
| | |
| | |
| Description | Link |
| --- | --- |
| Pop! Marvel – Stan Lee‬ | Link |
| Pop! Heroes: DC Super Heroes – Cyborg Superman | Link |
| | |
| | |
| | |
| | |
| | |
| Description | Link |
| --- | --- |
| Pop! Television: Back to the Future – Marty McFly | Link |
| Pop! TV: The Office – Recyclops | Link |
| Pop! Games: Fortnite – Ripley | Link |
| | |
| | |
| | |
| | |
| | |
| | |
| | |
| | |
| | |
| Description | Link |
| --- | --- |
| Pop! Marvel‬ – Deadpool | Link |
| | |
| | |
| | |
| | |
| | |
| | |
| Description | Link |
| --- | --- |
| Pop! Games: Critical Role- Vex on Broom | Link |
| | |
| | |
| | |
| | |
| | |
| | |