Disclosure: This post may contain affiliate links to help support our free community. This 100% free to you, and keeps the lights on for us!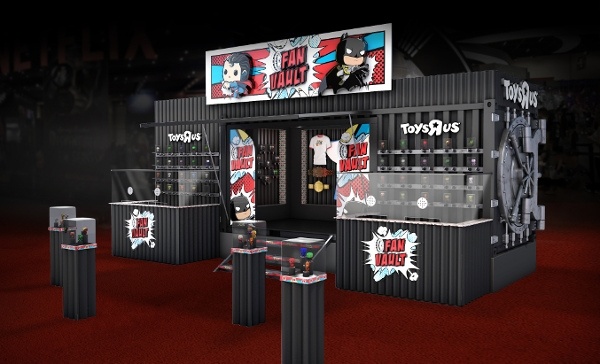 Toys 'R' Us, which filed for Chapter 11 bankruptcy protection in September (see "Toys R Us Files Chapter 11"), is expanding and rebranding its in-store collector shop, the company announced.  The new departments will be called Fan Vault, and offer an expanded Funko assortment, and anime products from BlueFin and Bandai America.
The new departments will be previewed via Toys 'R' Us first appearance at New York Comic Con, where its booth will serve as the first official look at the plans for the retail stores.
Suppliers are in a tough spot because of the bankruptcy.  Funko, for example, is owed around $3.7 million according to the company's filing.  And Bluefin may be absent for the initial list only because its receivable fell below the cutoff for the top 50 creditors list with the initial filing (roughly $2.5 million).
There is "widespread panic" among the 100,000+ Toys R Us suppliers, according to Washington Post.  While the company has $3 billion in debtor-in-possession financing, it's at a critical point in the holiday season, and keeping its suppliers happy isn't going to be easy.  And with its efforts to expand geek merch sales, negotiations with companies in that space are going to be especially ticklish.
Hasbro is owed $59 million, according to the filing, less than half what's owed to Mattel, about $136 million, but enough to leave a mark if a significant portion ends up being uncollectible.